PlayStation 5 Repair
London PlayStation 5 Repair / Sony PS5 Repair Experts
Are you in need of professional Sony PlayStation 5 repair services in London? Get in touch with the experts at London Console Repair! We are a leading home video game console repair centre based in Central London offering specialist and affordable Sony PlayStation console repairs for all models including PlayStation 3 repair and PlayStation 4 repair in London and also for clients all over the United Kingdom.
Same Day PlayStation 5 and PlayStation 5 Digital Edition Repairs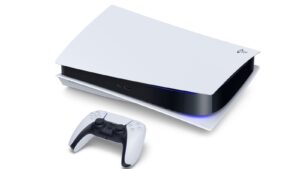 As part of our London PlayStation 5 repair services for PS5 standard console with optical disc drive and PS5 Digital Edition models, London Console Repair provides troubleshooting and repairs for all problems including PS5 console sound or picture issues, PlayStation 5 won't turn on, PS5 power issues, PS5 overheating, you have an error code, PS5 keeps crashing while playing games, data transfer errors, HDMI port is not working, software issue, problem with the disc, PS5 console freezes while playing, image looks pixilated, PS5 connectivity issues, PS5 turns off while playing games, PS5 external hard drive problems, PlayStation 5 console making strange noises, HDMI cable does not work, system is stuck in safe mode, PlayStation 5 disk drive won't work and console won't download games.
PS5 Motherboard Repair / Replacement
PS5 Internal SSD Upgrade / Replacement
PS5 HDMI Port Repair / Replacement
PS5 Fan Replacement
PS5 LED Board Replacement
PS5 Power Supply Replacement
PS5 Eject and Power Button Board Replacement
PS5 USB Board Replacement
Professional Mail in Sony PS5 and PS5 Digital Edition Repair
We provide mail in services for all Sony PS5 console repair services. Our trusted console repair experts are here to help. Schedule an appointment today. Get in touch with London Console Repair on 020 7237 6805 or request a free London PlayStation 5 repair quote online. We not only guarantee great prices for London PS5 repairs, but you will also receive excellent customer service.